MISSION STATEMENT
We are here to demonstrate that conservation can lead us to environmental restoration and back to a balanced biosphere. We regard our MISSION as being environmental restoration with three goals that are accomplished with the same effort.
OUR GOALS
~ Restoration of degraded habitat
~ Carbon Sequestration
~ Profit that is made by growing food without sacrificing quality or dignity
METHOD
Using the sustainable practices of permaculture and regenerative agriculture we are able to restore degraded pastures and forests, sequester carbon by building healthy soil while growing animals and plants that are healthful without resorting to chemicals or pharmaceuticals at real profit.
We apply a holistic approach to our goals that blend the natural patterns of livestock raising with an understanding of the technology of Green House Gases, both their emission and sequestration.
Modern petroleum based agriculture is responsible for substantial emissions of Green House Gases. However, cattle raised by permaculture promote sequestration of Carbon Dioxide and Nitrous Oxide while reducing the emission of Methane. Rich pastures of native grasses and forest where livestock is intensively grazed are able to sequester as much as 25 tons of Carbon Dioxide per acre per year and generate marketable Carbon Credits.
Market demand is growing for food that is more nutritious with lower toxicity and even local grocery stores, as well as Walmart, carry naturally and organically grown food. Chains of "Natural Food" stores such as Whole Foods and Fresh Market are expanding rapidly nationwide. A growing awareness of the benefits of naturally and organically grown food brings good health to those who eat our food and the farms that are restored and balanced.

Good food that ties together the flavors of the past with a healthier future for our planet.

POSSIBILITIES
~ We want people to experience the tastes that our grandparents took for granted, tomatoes that make your mouth water, eggs that cry out to be made into cookies, chicken for soup that really is good for a cold
and steaks that sizzle with flavor.
~ We want to be good stewards whose joys and pleasures are good for our world.

~ Profit at any cost becomes a liability instead of an asset.
~ Technologies that enhance the natural cycles of life are encouraged as the fruits of our minds.
~ A balanced environment that is inclusive of the symbiotic relationship between plants and animals also includes respect for all life.
~ Healthy relationships between producers and consumers are as important as those between the best of friends.
~ An open and welcoming business creates its own checks and balances that maintain momentum and encourage innovation.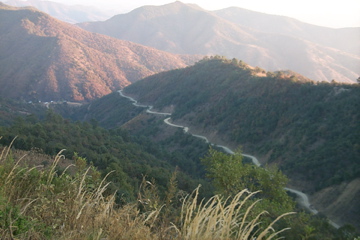 Photo taken by Jill Ellis on a road we have driven many times in central Oaxaca, Mexico. We were on a mission then, too.